Veneers
Porcelain veneers are an effective and easy way to improve the appearance of your smile.
---
What are porcelain veneers?
Veneers are extremely thin shells of tooth-coloured porcelain that are bonded to the front of a damaged tooth.
This procedure requires little or no anesthesia, and can be the ideal choice for improving the appearance of your front teeth with little effort on your part.
Porcelain veneers are placed for a variety of cosmetic reasons, such as masking discolorations, brightening teeth, an improving your smile.
wafer-thin porcelain veneers are highly resistant to permanent staining from coffee, tea, or even cigarette smoking, and can achieve a tenacious bond to the tooth. The result is a natural and aesthetically pleasing appearance.
Why a porcelain veneer?
In mant instances, porcelain veneers make an excellent alternative to dental crowns. This is because they are a much more conservative approach to changing a tooth's color, shape and size.
Veneers mask undesirable defects such as irregularities from an injury to the teeth, tetracycline stains, or discolouration as a result of root-canal therapy.
Patients with gaps or chips in their teeth also have excellent results with veneers.
Veneers can easily last for many years - this technique for immediately enhancing your smile has shown remarkable longevity.
---
What happens during the procedure?
The whole of the porcelain veneers planning and application process takes place over 3 separate appointments at our office:
Diagnosis & Treatment Planning
Taking an active role in your smile design is crucial to its success. After all, success means your satisfaction, so your input is key!
Involve yourself fully in the decision-making and planning process with us, so that your smile looks just how you want it to in the end.
If necessary, have more than one consultation with our team to feel satisfied that we understand your objectives.
Preparation of Teeth
We prepare the teeth for veneers by lightly buffing them. This makes room for the small added thickness of the veneer.
About a half a millimeter of the tooth what's typically removed, and this process may require local anesthetic.
Next, a mold is taken of the teeth. This mold is sent to the laboratory that will fabricate your veneers.
The fabrication process usually takes 1 - 2 weeks.
Bonding
The final appointment is when we actually bond the veneers to your teeth. Your dentist will begin by temporarily fitting your veneer on your tooth, to make sure the fit and colour are just right right.
Once you and your dentist are both satisfied with the fit and colour of your veneer, he will apply it permanently with a special bonding cement, and then cure and harden it with a special light beam. The last step will be to remove any excess cement, evaluate your bite, and make any necessary final adjustments.
---
Results
While porcelain veneers are reasonable facsimiles of natural teeth, they are not perfect replacements. There will likely be a slight, barely perceptible variation in the color of porcelain veneers upon very close inspection. This occurs even in natural teeth, and isn't something you should be worried about.
Over all, dental veneers can vastly enhance the appearance of your smile, which can greatly improve your self-confidence.
Before your veneer procedure, we recommend that you do a course of bleaching.
This is so that the restorative work can be matched to the lighter, brighter colour of your bleached teeth.
At Cloverdale Crossing Dental Group, we offer veneers to improve the appearance of your smile. Contact us today to find out more.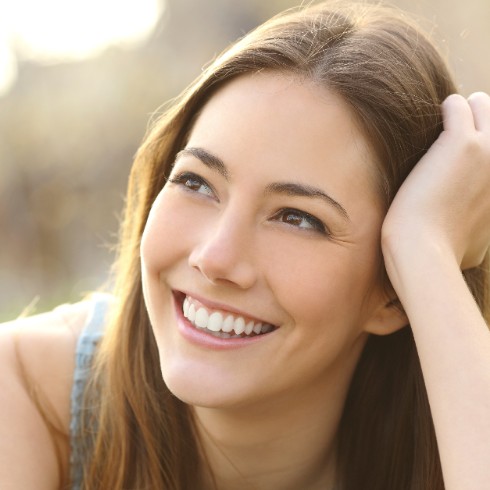 ---
---
---

---
Featured Services
We are committed to helping you and your family maintain good oral health.
| | |
| --- | --- |
| | Getting your child fitted for a custom mouth guard is the optimal way to ensure their teeth, mouths and jaws are protected during sports. |
| | Maintaining good oral health and preventing gum disease is supported by regular dental exams and cleanings. |
| | Invisalign, clear braces are the invisible way to straighten teeth using a series of custom-made, nearly undetectable aligners. |